Science Fiction | Time Travelers | Gary Kuyper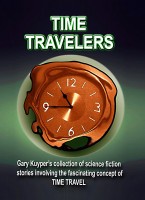 I like this set of five stories better than the other Gary Kuyper book I read. Gary Kuyper has a fine appreciation of irony as applied to time travel stories, and this comes out beautifully in the five short stories that comprise this book.
In What Goes Around, an angry inventor tries to outdo the villain who stole his concept and tech. Made to Order has a military R&D team trying to beat the enemy by grabbing tech from the future, and an equally desperate enemy. Latent Images has an inventor make version 2 of a technology for 3D movie spectacles, or is it? What's the man really up to? A Mammoth Error has both mammoths and errors, and the tech team blissfully unaware. Frozen Assets is a macabre look at the super rich who just want to freeze themselves into a future where their investments will pay for medical cures for their present health issues.
All in all, a very enjoyable read. You can get it
here
, for free.