Horror, SF, Fantasy, Fanfic | You have been Murdered and other stories, Zero 'g', The Thief's Tale, The Girl with the Scarab Necklace | Andrew Kozma, Srujan Joshi, Lee Murray, Tyro Vogel
You can't get a more mixed bag than horror, SF and fantasy in the same post, unless you also add fanfic. This is also a mixed bag in terms of how much I liked each of them.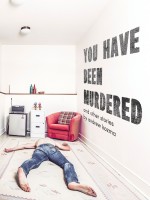 Let's start with You have been Murdered and other stories. A collection of weird stories that reminds me of 70s sci fi/horror, in a good kind of way. Story wise:
You have been murdered: as described in the synopsis above, the horror is in the need to show a smiling face despite life-shattering events.
Teller of tales: Heart-rending
Breach of contract: Funny in a macabre way, with urban mediocrity running straight up against rural high fantasy.
The trouble-men: Creepy and suitably end-of-the-world.
Recommended for those who like their horror a bit laid-back, a bit incomprehensible, and a bit thought-provoking (with shudders). 4 stars. Find it
here
.
Zero 'g' was a disappointment, because this is not my expectation of a sci fi story. This story has all the masala but none of the main ingredients.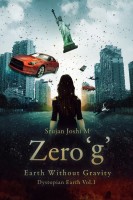 I'm reviewing after only a few chapters, but you lost me at the earth losing gravity for no reason given, not even a mad fantasy reason. Gravity is to be replaced by Particle B, to be hauled from outer space. That's too banal and ... Hollywoodish.
That said, there is nothing objectionable about the story or the treatment. The writing is fairly taut, there are neither typos nor bad grammar nor bad editing. The characters are reasonably developed and decent humans. I just expected it to be more hard sci fi, which is my fault because the intro on this page is clear enough that the Earth is just sick and tired of humans. So, if that's your scene,
have at it
. Two stars.
The Thief's Tale is no longer available on smashwords. Lee Murray has come up with a neat little thief story mixing history, fantasy, and horror. A thief with new names for new capers (in alphabetical order) pulls off a heist of a Faberge Egg from the up-for-sale estate of a dead lady, in the teeth of opposition from an evil Mayor (also a thief, but more brazen and powerful). From then on, it's a race between the ancient curse and the Mayor. Which will get her first, or will she escape?
The Girl with the Scarab Necklace
is a sweet fanfic from Tyro Vogel, which he used to call
The Crimson Tide
but has since renamed. Here are my old reviews of it, since I reread it this month and see no reason to change. You can get the book
here
.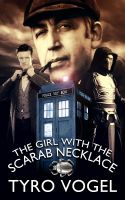 A wonderful story for all Dr Who fans, who (heh heh) love a good detective story with a solid plot. But wait, what are guys with these laser swords doing? The game is afoot, Watson.
I finished this story with a big grin on my face. Fun!
and
A tribute to Sherlock Holmes, Doctor Who and Star Trek. If you like even one of these three, this is a book worth reading. What are you waiting for? It's even free. (You could buy some of Tyro Vogel's other books, though).
Strongly recommended.
So there you have it: Most good, some disappointing.