Science fiction shorts
Chemical creatures | Gary Kuyper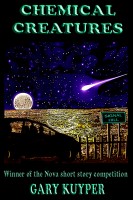 We have here a depressive with blackout episodes and an alien with a humble task at which he/it hopes to excel and get promoted. There are chemicals involved and a weird kind of salvation for the depressive. The bit focussed on the depressive is very very chemical and the bit about the alien is a little funny and a bit of a surprise. The best part is the description of Cape Town.
It's neat, but not really my type. You can read it
here
.
Beyond: Space Opera | Milo James Fowler
This is a collection of shorts, which I'm taking one by one:
Captain Quasar and the Kolarii Kidnappers by Milo James Fowler has our intrepid Captain attempting to recover from the slow-moving Kolarii, a bunch of children whom they are alleged to have kidnapped. Except that it's not that simple. Captain Quasar stories are droll, but the villains always get their comeuppance, which is very satisfactory.
The Ungreat Escape by Siobhan Gallagher features a jewel thief and rocket motors, and eventually, an escape best described as ungreat. A bit funny in parts, and of course, crime doesn't pay...yet.
All Comms Down by Anne E Johnson is about one of the first extra-galactic spaceships, carrying a crew of colonists, and the trouble they encounter. Is there, ultimately, a cure of sorts for the mysterious illness that strikes the humans aboard? Plain and simple space opera.
Remembrance Day by Simon Kewin has a Mobius Strip in outer space, a Space Bar (I kid you not, he put this in with a straight face), a bar owner with little memory, a long-lost girlfriend, an old enemy and a startling surprise. I liked this one second best in today's lot. The plot is neat enough and the characters are well done.
The Lion's Den by Devin Miller has a very light touch. There is an ill-maintained spacecraft, zoo animals and a love-struck young man out to rescue the girl of his dreams. It's a fun and funny story, and my favourite in this collection.
Captain Clone by Deborah Walker has clones, wine, and a spaceship stuck on a planet, held by tentacles. Not to mention two utterly unloving 'mothers'. Creepily well done.
There are also short notes on the inspirations for the stories, which add to the experience.
You can buy this on Amazon.